Brittany Harlow grew up in Massachusetts. In 2008, she enrolled at Middlesex Community College to pursue a degree in journalism and broadcasting, while also pursuing an acting career in Boston.
​A year later, Brittany moved to Oklahoma. After graduating from Northeastern State University, Brittany was hired as a content producer for KRMG's Evening News with Dick Loftin on NEWS102.3 and AM740 KRMG in Tulsa. She was promoted to full-time reporter in December 2014.
​Brittany began her TV career with News12 KXII as an Ada bureau reporter in July 2015 and made her way down to the main station in Sherman, Texas, in June 2016. She was promoted to Weekend Anchor in January 2017.
​​Brittany left KXII in June 2018 to work for VNN. She had her first child in March 2019 and became a foster parent in 2021. Brittany knows finding a healthy balance between work and home life is important and enjoys helping others do the same. She also enjoys playing soccer and traveling in her spare time!
Trista Vaughn is United Keetoowah Band, Hualapai, and Chickasaw. Trista graduated from Northeastern State University in 2018 with a Bachelor of Arts in Media Studies with an emphasis in Public Relations and in 2020 with a Master of Arts in Communication.
Trista volunteers for Mvscokee Mentor and Tahlequah Area Coalition for the Homeless.
She is a member of the Alpha Sigma Alpha Sorority Alumna, ONABEN Girl Talk, and Oklahoma Council for Indian Education, and she served as Miss Keetoowah 2013.
Trista currently resides in Tulsa, OK with her dog Luna. She enjoys hiking, kayaking, running, and yoga.
Jennah James got her start in journalism right out of high school as a production assistant for KHBS/KHOG in Fort Smith, Ark. She knew she wanted to be a journalist from the time she was 10 years of age. Though she didn't know fully what the life of a journalist entailed, she was ready to jump in.
After graduating with a BA in Broadcast Journalism from Oklahoma State, Jennah moved to Fort Smith, Ark. to report and produce for KFSM 5NEWS. There she covered hard news, like the death of a young soldier and the naming of a highway after him, a domestic violence murder at an intersection, a beauty queen murder case, and other stories she won't forget.
Since then, Jennah has worked as a Digital Manager at KJRH and an Assignment Editor at FOX23 in Tulsa, in addition to freelance writing for multiple local and national outlets. She's looking forward to telling more community perspective stories since joining the VNN team.
Rahkiya "Rocky" Brown was born and raised in Binghamton, New York. Rocky earned her degree in broadcast journalism at SUNY Oswego, where she wrote for the school newspaper.
After graduating in 2018, Rocky landed her own radio show with a local station in her hometown. Shortly after, she branched off to start her very own media outlet called "Plugged In" where she interviewed musicians, entrepreneurs and artists with the intention of "plugging the people in" to the amazing talents in her community.
Rocky has been able to reach over 20 countries with Plugged In but is now looking to pour her passion for journalism into the expansion of VNN! Covering the Upstate New York area, she is honored to join VNN's tribe of journalists and eager to hit the streets looking for unique stories that traditional media may overlook.
Renae Morgan recently graduated from Mercy College in New York with a Bachelor of Science in Journalism. During her collegiate career, she wrote for both Mercy College's Impact News and The Emerald Magazine, a national publication.
In her spare time, she can be found writing poetry and binge-watching Suits. Journalism is her passion, and she hopes to use her voice to shine a light on real world issues.
Rachael Schuit is thrilled to be joining VNN to cover her home state of Michigan. Born and raised in the suburbs of Detroit, Rachael has spent her whole life living in the mitten. She graduated from Central Michigan University with both her undergraduate and graduate degree.
She started her journalism career at WILX-TV in Lansing, Michigan as a producer and reporter. Most recently she spent two years as a reporter at Upnorthlive In Traverse City. The stories she's covered range from the opioid crisis, erosion along the great lakes, local government politics and COVID-19.
Rachael has a passion for meeting new people and sharing their stories. If you have a great story idea, she would love to hear from you.
In her spare time Rachael enjoys hiking, going to the beach, traveling to different Michigan towns, reading, and cooking.
Alex Frank Collins joined VNN in 2022.
After receiving a Bachelor of Arts in Mass Media/Communication in 2014, Alex volunteered at the Smithsonian Center for Folklife and Cultural Heritage and works as a substitute teacher.
Jasmin Washington was born and raised in Northport, Alabama. She earned her degree in journalism at Stillman College, where she wrote for her school's newspaper. While in college, Jasmin also interned for WVUA 23 at the University of Alabama, and freelanced for The Tuscaloosa Newspaper.
Upon graduation, Jasmin was a contributing writer for Sports Radio America. She launched her own media company Jazzy's Media Production shortly after.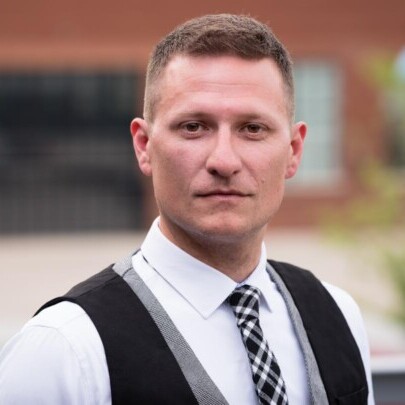 Kelly Tidwell | MUSCOGEE RESERVATION
President | CEO
Kelly Tidwell has been a noteworthy leader in the energy sector for more than a decade. He took the plunge into news entrepreneurship after witnessing his wife Brittany Harlow's passion for community service through news and information.
Kelly is a citizen of the Muscogee (Creek) Nation. Through VNN, he hopes to lift up more Indigenous voices in Oklahoma's news ecosystem.
In addition to news entrepreneurship, Kelly also works as a consultant and data scientist in the Exploration and Production sector of the energy industry.
Mackenzie Oestreich has been an Okie all of her life. She is currently enrolled as a senior at Northeastern State University working on her Media Studies degree. Previous accomplishments include speaking at the Pentagon and meeting with the Secretary of Education through SkillsUSA.
Mackenzie looks forward to connecting with local communities and improving the public's perception of the news industry with VNN. She is also a photographer who enjoys spending free time with her family.
This paid internship is made possible by Interns for Good, a Department of Labor funded internship program through Workforce Tulsa.